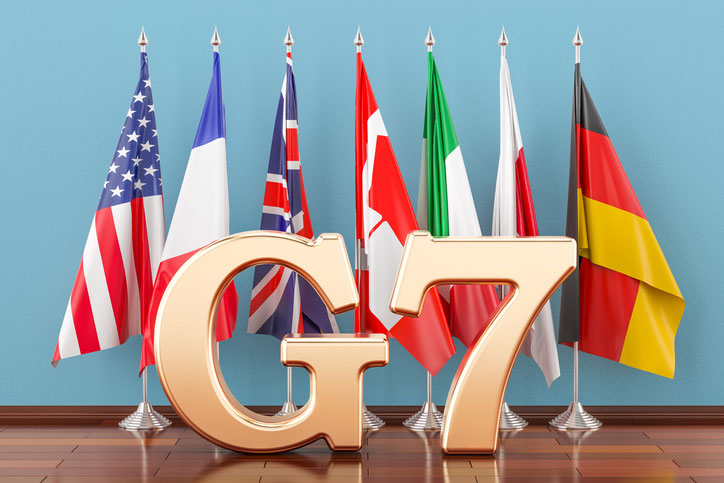 G7 Member Countries
The Group of Seven (G7) is an international intergovernmental economic organization consisting of the seven major countries : Canada, France, Germany, Italy, Japan, the United Kingdom and the United States, which are the largest IMF- advanced economies in the world.
Members of Group
| | | |
| --- | --- | --- |
| S.no | Country | Representative |
| 1 | Canada | Prime Minister Justin Trudeau |
| 2 | France | President Emmanuel Macron |
| 3 | Germany | Chancellor Angela Merkel |
| 4 | Italy | Prime Minister Giuseppe Conte |
| 5 | Japan | Prime Minister Shinzo Abe |
| 6 | United Kingdom | Prime Minister Boris Johnson |
| 7 | United States  | President Donald Trump |
Source-Wikipedia
 Trick To Memorize the Members 
drink JUICE with GF (girlfriend)
JUICE
🔹J for Japan
🔹U for USA
🔹 I for Italy 
🔹C for Canada
🔹 E for England 

  GF
🔹G for Germany 
🔹 F for France
Also Check-Current affairs|APPOINTMENT-MAY 2020
List Of Recent Summits
Summit:-46th
Date:-10-12 june 2020
Host:-United States
Host Figure:-Donald Trump
Location Held:-Camp David, Maryland (cancelled) Worldwide videoconference (replaced)
Notes:-
This meeting was originally scheduled to be held in Camp David, Maryland, but that meeting was officially cancelled on March 19, 2020 due to the concerns over the worldwide coronavirus pandemic and was replaced by a global videoconference.
Summit:-45th
Date:-24-26 August 2019
Host:-France
Host Figure:-Emmanuel Macron
Location Held:-Biarritz, Nouvelle-Aquitaine
Notes:-
It was agreed at the summit that the World Trade Organization, "with regard to intellectual property protection, to settle disputes more swiftly and to eliminate unfair trade practices", "to simplify regulatory barriers and modernize international taxation within the framework of the OECD", "to ensure that Iran never acquires nuclear weapons and to foster peace and stability in the region.", "to support a truce in Libya that will lead to a long-term ceasefire" and addressed the Russian military intervention in Ukraine and the 2019 Hong Kong anti-extradition bill protests.
Summit-44th
Date-8-9 June 2018
Host-Canada
Host Figure:-Justin Trudeau
Location Held-La Malbaie, Quebec
Notes-
It took place at the Manoir Richelieu. Prime Minister Trudeau announced five themes for Canada's G7 presidency which began in January 2018. Climate, along with commerce trades, was one of the main themes. "Working together on climate change, oceans and clean energy". The G7 members' final statement contains 28 points. US President Donald Trump did not agree to the economic section of the final statement. The G7 members also announced to recall sanctions and to be ready to take further restrictive measures against Russian Federation for the failure of Minsk Agreement's complete implementation.
Summit-43rd
Date-26-27 May 2017
Host-Italy
Host Figure-Paolo Gentiloni
Location Held-Taormina, Sicily
Notes-
G7 leaders emphasized common endeavours: to end the Syrian crisis, to fulfill the UN mission in Libya and reducing the presence of ISIS, ISIL and Da'esh in Syria and Iraq. North Korea was urged to comply with UN resolutions, Russian responsibility was stressed for Ukrainian conflict. Supporting economic activity and ensuring price stability was demanded while inequalities in trade and gender were called to be challenged. It was agreed to help countries in creating conditions that address the drivers of migration: ending hunger, increasing competitiveness and advancing global health security
Also Check-India'S Rank In Various Index 2020